Quality Coordinator
Meer details
Match criteria
Functiegroep
Logistiek/ transport / inkoop
Reageer nu!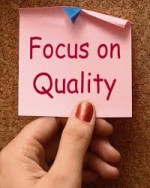 Functie omschrijving Quality Coordinator
As Quality Coordinator you report directly to the Manager Quality assurance. As a team, you are fully responsible for providing optimal service, directly or indirectly, to our internal and external customers.

The Quality Coordinator provides support in achieving and maintaining the required operational quality levels, and supports with audits and certifications (including ISO, TAPA-A, AEO, Regulated Agent & IATA) for all branches of BU High Tech NL. The safety of staff, compliance to procedures, protection of products and facilities plays a central role.

Tasks and responsibilities:
• Audit accuracy of process documents such as Work Instructions; identify gaps
• Audit compliance of Work Instructions by Operations
• Management/maintenance of quality systems, including ISO;
• Establishing and monitoring quality KPIs;
• Preparation and updating of annual planning analyses and monitoring to support the quality management system;
• Preparing, following and supervising audits, together with the Operations Manager;
• Recording risks and compiling risk analyses;
• Providing support and input on reporting and analyses to the Operations Manager;
• Compiling relevant data for documentation, such as calculations, working drawings and operational instructions;
• Support Ops with investigating quality failures by means of root cause analysis methodology;
• Support training of Ops in Lean/Quality awareness to build quality into Operational processes and mind-set

Functie eisen Quality Coordinator
• You have completed a relevant Higher Professional Education (HBO) course or equivalent;
• 3 to 5 years' demonstrable experience in the quality management field (including ISO; TAPA-A), in addition to experience with RA and IATA rules and regulations;
• Knowledge of different RCCA methodologies, and preferable knowledge of LEAN
• Knowledge of MS Office. Experience with SAP and SharePoint is an advantage;
• Knowledge of English is essential; knowledge of Dutch is an advantage.

Other competencies:
• Analytical
• Quality-conscious
• Result-oriented
• Accurate & immune to stress

Locatie
Gennep
Contactpersoon
Meer informatie?
Werk telefoon:
(077) 3743 668
Job Search Agent
Maak een Job Search Agent en ontvang nieuwe vacatures per e-mail.