Customer Service Officer Logistics Junior
Meer details
Match criteria
Functiegroep
Logistiek/ transport / inkoop
,
Sales / Marketing
,
Administratief/Secretarieel
Nieuw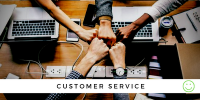 Are you looking for an international employer, with enough opportunities to develop your personal growth?
Our client is specialized in logistics solutions. In collaboration with the customer, they determine a logistics process that is most effective and which meets their needs. For example, they invest in innovative solutions such as optimizing automation, digitization and obvious in their employees. Do you want to know more? Just read on and contact us!

We are looking for a junior Customer service officer with the following responsibilities:
As Junior Service Delivery Officer, you are the point of contact for your customer and customer service in regards to service and on time delivery of the carriers
In this role it is key to communicate with customer service with the help of TEC (tracking & tracing system) and SAP
Further you answer to tickets in our CRM system that are in the scope of your responsibility
Since service and quality is our most important goal, your role is crucial in achieving this and crucial in being successful
Are you going the extra mile for your customer?
Skills we are looking for in your resume
A relevant education at MBO Level
Experience in customer service
Knowledge and experience within logistics
Excellent verbal and written skills in English and preferably Dutch
Competences on our wishlist are:
To be successful as a junior Customer service officer you get your energy from being in contact with different stakeholders and see the challenge in your role to contribute to improve customer satisfaction
You are someone who is always investing in the relationships with all parties involved and who has an internal drive to work service minded and result oriented.
You are monitoring carriers, analyze, report and if necessary escalate any kind of shortcomings in the current processes to the Senior Customer service officer or Supervisor
You should be able to work under pressure, be assertive, take initiative and analyze data
Salary & conditions
In addition to a competitive salary and travel allowance, the offer will contain for example:
8% holiday payment
A bonus based on performance and organization results
25 vacation days, possibility to build up to 28 vacation days
A bonus based on performance and organization results
Up to 40% discount on your fitness subscription
Telephone and laptop
A non-contributory pension
Apply now
Locatie
Gennep
Publicatie datum
17.02.2020
Contactpersoon
Meer informatie?
Werk telefoon:
(077) 3743 668
Job Search Agent
Maak een Job Search Agent en ontvang nieuwe vacatures per e-mail.