Customer Service Engineer m / f (partially for the Chinese Market)
Meer details
Match criteria
Functiegroep
Techniek
,
Sales / Marketing
Reageer nu!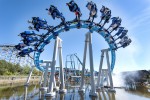 About the company, enjoy the ride!
Our client develops, produces and installs special attractions for theme and amusement parks around the world (top 10). To expand the team we are looking for an experienced person for the Parts & Services division in the short term

Customer Service Engineer m / f (partially for the Chinese Market)

As a Customer Service Engineer you analyze the requests for technical support or the requests for advice from customers / owners of attractions and, if necessary in coordination with the Field Service Engineers, you diagnose the technical problem outlined. If possible, you provide solutions or route broader related questions for technical support to the Engineering Division.

You will find your way within an engineering organization, where you make good use of your common sense and technical insight. In addition, you would like to be challenged in your position where you guide a broad customer package from A to Z. Does this arouse your interest? Then read on!
What about the responsabilities?
• You process requests and orders that relate to the technical support of customers / owners of
attractions
• You are responsible for the quotation, order intake, coordination and handling of requests and orders concerning the
Customer demand and prepare reports on the method of handling
• You provide training, perform inspections or instruct technicians from the maintenance service of the customers / owners of
attractions
• You, supervise/coach the executive staff involved in the project assignment, both inside and outside the
organization company and stimulates cooperation processes within it
• You advise and instruct the client / client with regard to the solution options for the problems identified
and possibilities for optimization and / or adjustments of the attractions and bears up-to-date technical knowledge
aspects and / or specifications of the attractions
• You coordinate the realization of assigned project assignments concerning, among other things, relocations, adjustments and
renovations of existing attractions and / or the implementation of upgrades (regarding control, drive and the like)
• You provide advice on the optimization and / or adjustments of existing attractions and / or parts to be supplied to the
customers / owners of attractions
• You assess the requests for support or advice, if necessary on location at the customer, in a broader perspective and you
advise the customer in this regard
• You make an inventory of the experiences of customers with the attractions provided, their operation and their technical
maintenance (ease of use) and links this back to the own organization
• You identify, anticipate and intervene in any bottlenecks or disruptions in the progress, quality, deviations and / or
costs of the assigned project assignment and resolves it in close coordination with the client / client.
Requirements
• You have an HBO work and thinking level (equal as HBO Mechanical Engineering or a related MBO education with relevant work
experience)
• You have commercial skills
• You have several years of relevant work experience
• Your communication skills are well developed
• You have a command of the Dutch and English language, both spoken and written, oral command of the German language is an
advantage
• You are tactful, customer-friendly and result-oriented
• You are willing to travel
• Finally, you have an absolute advantage if you have Chinese language skills (Mandarin)
Conditions of contract & how to apply
You get a permanent contract within an innovative and international environment that exudes a passion for technology. The employees are proud of what they develop and build.

In short: Enjoy the ride!

• A challenging, varied position based on 40 hours
• Plenty of opportunities to develop yourself.
• Informal, short lines of communication, effective organization.
• Healthy company, constantly growing.
• Good employment conditions based on knowledge and experience.


Are you interested? Let us know, send an app to René van den Borst on 06-18817501 or mail your resume to r.vdborst@suc6recruitment.nl
Do you have any questions? Contact René van den Borst on 077-3743668 or 06-18817501.
Locatie
Mid Limburg (Netherlands)
Contactpersoon
Meer informatie?
Werk telefoon:
(077) 3743 668
Job Search Agent
Maak een Job Search Agent en ontvang nieuwe vacatures per e-mail.