Assistent Supervisor Logistics
Meer details
Match criteria
Functiegroep
Logistiek/ transport / inkoop
Regio
Noord Limburg
,
Midden Limburg
,
Gelderland
Topbaan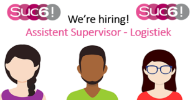 Intro
Our client is looking for an Assistant Supervisor. You are going to work in Heijen (near Gennep), the employer is looking for someone that is available for 40 hours.
What will you do as an assistant Supervisor?
At our client, you will get many operational responsibilities that ensure a fun and varied workweek.
Managing and inspiring your team (10 to 20 employees)
Coordinating daily tasks
Ensure quality
Contribute to improvement projects
Provide input to supervisors on planning, progress, work environment and safety
What do you need to be succesful?
The following things are nice to have if you want to start at this position:
Some work experience in a similar position
You can to replace supervisors in your absence
You can stand in front of a group and convey your message in a clear and motivating way
You are committed to innovative projects
Excellent command of the English language
It would be useful if you have experience with ERP-systems with a preference for SAP. But this is not a requirement
What do you get in return?
The chance to develop into a supervisor
Opportunity to develop your people management skills
A competitive salary
Travel allowance
25 vacation days, the possibility to build up to 28 days
Up to 40% of your fitness subscription
Business phone and laptop
Premium free pension
ANW and WIA Hiaat insurance paid in full by the employer
Apply now!
Our client specializes in logistics solutions and is among the top 10 Dutch logistics service providers. You will end up with an international organization that does business all over the world!
Interested? Then apply now! Patricia would like to see your resume, you can contact her at p.martens@suc6recruitment.nl
If you have any questions, feel free to contact Patricia: 06-20161810
Locatie
Heijen
Contactpersoon
Meer informatie?
Werk telefoon:
(077) 3743 668
Job Search Agent
Maak een Job Search Agent en ontvang nieuwe vacatures per e-mail.