Account Manager (m/v, fulltime)
Topbaan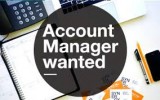 Functie omschrijving Account Manager (m/v, fulltime)
Account Manager (m/v, fulltime)
The Account Manager is responsible for our clients relationships, focusing on client satisfaction and retention. You are also involved in developing new markets and the acquisition of new customers. The nature of the works is highly varied and includes all commercial activities and customer relations.
The common objective of the function is to deal with the commercial activities and the day to day business with the customers. You work closely with other departments to ensure the timely delivering of products to our customers and to realize the company objectives in revenue, margins, service and results.

Examples of tasks include:

• Responding to and dealing with daily customer communication
• Deliver agreed sales targets
• Manage and maintain strong, effective relationships with key clients
• Responsible for total sales including back-office
• Analyzing weekly, monthly sales statistics
• Identifying opportunities with existing and new clients in the area of North Western
Europe
• Annual contract negotiations with customers
• Deputy of sales responsible in crisis and food safety team
• Responsible for quotes including sales prices and margins
• Outbound customer contact (visits, trade fairs, etc.)
• Liaison with other internal departments, including Spanish factories
Functie eisen Account Manager (m/v, fulltime)
This responsible job focusses on the customer relations and analyzing the markets to recognize potential opportunities to gain maximum orders for the company.
It requires a commercial background at bachelor level or equivalent by experience, supplemented with at least 2 years experience in a sales department.
Proficiency in English, Dutch, German and eventually Spanish languages, spoken and written is more than relevant just as excellent negotiation skills.
You are free to allocate time and set priorities in accordance to the responsibilities. Work methods and approach are described in processes or guidelines.
You have to act proactive, show initiatives and follow the movements in the markets.
Supervision is direct to the members of the local sales department. Regular contact with customers, suppliers and internal departments, for meeting, objectives and company policies.
You need to be flexible in working times regarding customer demands, fairs etc. also out of regular office hours.
Needs to travel within the responsible region (domestic and abroad) for customer visit.
Locatie
Venlo
Contactpersoon